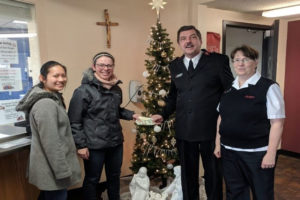 We are happy to announce Karina Meitinger, a Congress-Bundestag Youth Exchange (CBYX) young professional participant, as the March 2019 German participant of the Month.
Karina is placed by Cultural Vistas and hosted by the Gruber family in Minnesota, where she attends St. Cloud State University. Karina has found a number of ways to give back to her host community. Excited upon learning that St. Cloud holds an annual German Christmas market, she offered to bake traditional German Christmas cookies to sell. She reached out to the local Salvation Army and offered them all of the money made from the cookie sales as a donation in exchange for use of their kitchen. The Salvation Army happily agreed and Karina, along with ten other international students, baked cookies for three days! They raised $340 for the Salvation Army.
In addition to sharing delicious treats, Karina has been very involved in her host community. During the 2018 election in November, Karina offered to help the City Clerk's office with organizing ballots and preparing for the elections. She was able to learn more about the U.S. election system and was inspired to write an article about the experience which was later published in her local newspaper in Germany. Karina also helped her university with their annual Passport to the World Event which allows students to experience different cultures and interact with individuals from across
the globe without the expense of travel. She also actively volunteers at the local senior community center, helps local refugees, and assists children in the local library. In the spring, she will begin volunteering at a local community garden.
Outside of volunteering, Karina has become involved with the German club at her university, where she has been promoting the CBYX program to American students. Having finished her college semester, she now works in the marketing department at Gerginhoff, a company that produces harvesting equipment. Karina really exemplifies how exchange participants make a major positive impact on their host communities!
Karina is thankful for the opportunity to interact with Minnesotans from many different cultures. She states, "We should expand our view of life, the view of the world and cooperate together." Karina has done a superb job with going the extra mile to understand the people around her, help the community, and introduce her culture to St. Cloud.
Congratulations, Karina!
U.S. Department of State
Bureau of Educational and Cultural Affairs