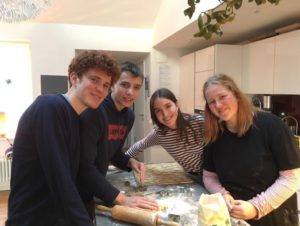 CBYX 2018-19 participant, Clive J., hosted in Panketal, reminisces about holiday traditions in Germany.
Apparently, Christmas time in Germany is essentially synonymous with Plätzchen, little cookies with many different hand-pressed shapes! Before coming here, I hadn't known this. But after many different baking sessions, I have grown quite accustomed to these lovely little cookies.
My first encounter with the cookies was in late November, when I spent almost an entire day decorating our new Christmas tree and baking various sorts of Plätzchen with my host mom.
Later in December, I went over to one of my school friends to bake even more. She insisted that I couldn't have a German Christmas without baking Plätzchen, and even though I told her that I had in fact already baked them with my host mom, we went forward with it anyway – more is better than less! Another friend from school and the only other exchange student at my school – from Switzerland – also accompanied us. The four of us had a blast baking, playing card games, and then afterwards going to the Weihnachtsmarkt (Christmas market) that our school was hosting.
The market was so sweet, and I was so impressed  by how many people came out to make it a beautiful night. After visiting the market, we also stopped by to watch the students vs. teachers basketball game that was going on. Seeing so many people involved in the school outside of regular school hours was really heartwarming, and it was one of the first times I felt like a true member of the school.
On Christmas Eve, I went over to another school friend's house, and there we baked yet another round of Plätzchen. After that, we visited the beautiful Weihnachtsmarkt at Gendarmenmarkt. It was definitely my favorite Christmas market of all.
I always have fun baking and eating, but I was especially touched that so many different people reached out to me and tried to shown me their own version of German Christmas. There were certainly differences in the ways each person made the cookies, but the common holiday tradition of making Plätzchen was a theme in every kitchen.
I am so very thankful to have learned so much about this tradition to have been intimately welcomed into the household of so many different people. I hope to repay this kindness by sharing my own family's Christmas traditions.