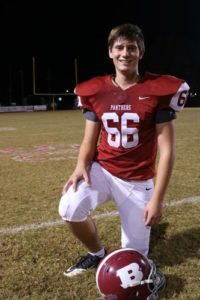 We are pleased to announce Joshua Kemper, a FLAG-placed, Congress-Bundestag Youth Exchange (CBYX) student from Germany, hosted in Lake View, Alabama, as the January 2018 CBYX Participant of the Month.
While only half way through his exchange, Joshua has made a significant impact on his school and community. Joshua is a valued member of Brookwood High School who had never had an exchange student play on any sports team before. However, by teaching the football team about his country and sports and allowing them to teach him football in return he became a valued member of the team. Joshua is also a strong student making the A-B honor roll for his first semester here. He was awarded a Varsity Letter for his contribution to the football team both on and off the field.
Outside of school, Joshua has completed 47 community service hours on various projects. He cooked and served lunch to veterans; shopped, prepared, and delivered Thanksgiving dinner to a needy family; donated and organized food for the school food drive; worked games at the Vance Elementary School Fall Festival; volunteered to set up and clean up after the school beauty pageant; collected, purchased and organized gifts for the Masonic Temple's Christmas program for children; and taught Brookwood Elementary students about Germany.
Joshua has immense pride in his country and does an excellent job representing Germany through his daily positive behavior, formal presentations, and informal conversations with classmates. He has done an excellent job of teaching his peers, including those who have a negative impression of his country, in a positive and non-confrontational way. Joshua has given presentations about Germany to 547 students and teachers, reaching the majority of his school.
Joshua has shown a very positive and thoughtful spirit and is willing to step up to help anyone in need. He always looks for the positive even in difficult situations. In his short time in the United States, he has made a positive impact on his host school and community.
Congratulations, Joshua!
U.S. Department of State
Bureau of Educational and Cultural Affairs