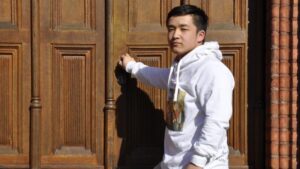 The original version of this article was posted in German in Der Prignitzer on March 17, 2020 by René Hill. 
PERLEBERG. First, the announcement that schools are closing. Then, the news that he must leave Germany and return to the United States. For American exchange student Shohislombek Solijonov, this was a shocking message. "I couldn't really sort my feelings," says the 17-year-old shortly before leaving a conversation with the "Prignitzer." "A few days ago, I thought the coronavirus couldn't affect me. But then the Trump decree came, and I received an email on Friday night that my departure would be on Sunday."
Shohislombek arrived in Germany in August and attended a language school in Hamburg for one month before entering class 10.2 at the Gottfried Arnold Gymnasium on September 9th. Here, everyone calls him "King," because his name means this. "Teachers and students are very sad that King has to leave so quickly," says classmate Philipp Fallenhagen. "Nevertheless, we quickly organized something." The students searched Perleberg for an advertising studio that printed a sweatshirt for them. On the front is a class photo, and on the back is the sentence: "Nixe gute ist, dass der König geht!"
"Nixe gute ist" said Shohislombek whenever he didn't like something. The 17-year-old regrets that his classmates never corrected him. But, that's how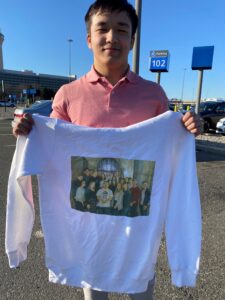 the sentence became his trademark. All of the students signed below the phrase.
His classmates are disappointed that he cannot stay until the end of his exchange program in June. "He is one of us. He was in our Christmas concert, is part of the judo and wrestling teams, and even works with the volunteer fire department," says Philipp Fallenhagen. There is a little admiration from Philipp, as he adds that his classmate speaks seven languages and plays four instruments.
His host family is also disappointed by the quick departure. Shohislombek was hosted by his classmate Mohammed Berro. "We are very sad that he will be leaving us, says host father Abdo Brou. "Lately, he's been like a son to us." They also quickly organized a surprise party for him and visited Hagen. There, Shohislombek buried a few stones that he had brought from the North Sea. "Now I have a reason to come back," he says in the presence of nine classmates, even if it is obviously difficult for him to say goodbye. After Perleberg, he definitely wants to come back. He fell in love with the old barracks buildings, his classmates reveal with a smile. "He would like to turn it into a hospital," they add.
"Yes, one day I want to give something back to the people that did so much for me during my stay," says Shohislombek. His grandfather did something like that, so he's following in a similar direction.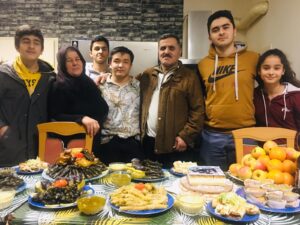 The time comes to say goodbye, and King must pack the rest of his things. On Sunday morning, he will leave at 5 AM from Berlin to Frankfurt and then to New York, where he will land at 9:15 PM. And from there, home to Manahawkin in the state of New Jersey. There, following a 14-day quarantine, he will go back to high school, where he is in the 11th grade. He looks forward to when his friends from Prignitz can visit him. They will be warmly welcomed by his mother.
Shohislombek came to Perleberg as part of the Congress-Bundestag Youth Exchange (CBYX) program between the German Bundestag and American Congress. Bundestag member Sebastian Steineke was his sponsor. Steinecke very much regrets that the in-person meeting that was scheduled in the spring will no longer take place.