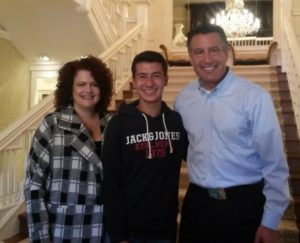 The CBYX scholarship is pleased to announce Pablo Nobre dos Reis, an ASSE-placed, Congress-Bundestag Youth Exchange (CBYX) student from Germany, hosted in Nevada, as CBYX Student of the Month.
Since his arrival, Pablo has taken an interest in all aspects of his American community. In school, he is a member of the Drug Prevention club, where, along with Partnership Carson City, he helped arrange a "Mock Party House" to teach students the dangers present at some parties. Pablo takes three honors and one AP class, with a combined GPA of 4.0. He also plays tennis on the varsity team and is a member of the school swim team.
Pablo likes to volunteer wherever he can. With 96.5 hours to date, he is a very active volunteer in his host community. Some of his work includes organizing a Food for Thought event; raising money for and awareness of homeless children in his school district; Salvation Army food boxing, donation collecting, and work at the drop-off center; and packing and delivering for Hygiene for the Homeless.
Recently, Pablo won the Carson City area Shark Tank, making him eligible for the FBLA State competition in Las Vegas. The contest, supported by Carson City entrepreneurs, had the students create a start-up business, write a professional business plan, and pitch their ideas to a panel of judges. Pablo's business plan was "an authentic German Bakery… which sells sweet and salty baked goods and creates an authentic German experience. After I presented my business plan I got a lot of positive feedback from the sharks and also a few corrections". Pablo was very "happy and proud" to have won Shark Tank, saying "for me it was a great experience, as I want to open up my own company one day. Furthermore, it was a great opportunity to present it to successful entrepreneurs and get their feedback on it."
Pablo's host mom Vicky is very proud of all the hard work he has done, saying "he's a very bright and engaging student, who represents his country well."