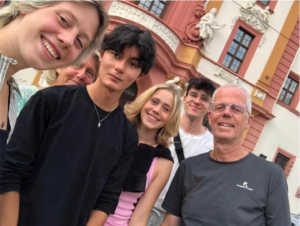 We are pleased to announce Diego Mendoza Casas as the February 2023 CBYX U.S. Participant of the Month! Diego, a Congress-Bundestag Youth Exchange (CBYX) High School participant recruited by CIEE, is hosted by the Bergedieck family in Weimar, Thuringia.
Diego's inspiration for applying to the CBYX program was his mother, who is from Colombia and went on an exchange to the United States when she was younger. He knew that his mother's experience helped her learn English and taught her about U.S. culture and, because he is interested in the German language, he asked her if he could apply to CBYX. She immediately supported Diego's decision to apply because she knew how much her exchange experience helped her grow as a person.
Diego said, "Before I stepped on the plan to Germany, I had lived in the United States for most of my life. My view was U.S.-centric." Once he got to Germany, he realized that many behaviors and traditions he assumed were universal are very American. "Every country in the world is different. There is so much to see and experience and the world is so different from what many people think." Whether experiencing how German teenagers spend their time, seeing how Germans dress or understanding how Germans have different values, Diego enjoys learning about Germany and feels his exchange is helping him become more globally-minded – a perspective he looks forward to taking back with him to Texas.
Diego is learning a lot from his host family. They are helping him learn the language by only speaking German in the house, and, when Diego doesn't understand a word, they explain it in German. He sees them as role models because "they open up to people in their city and have connections with people across their community." Because of these connections, Diego's host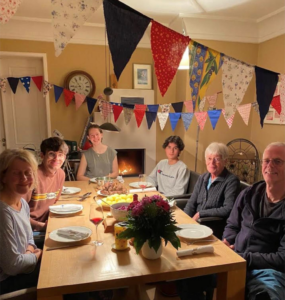 family has a lot of planned activities, and they often invite him to participate. They are also supportive of Diego trying new activities and help guide him and give him advice. Diego added, "They're teaching me how to become a better person."
Once of these new activities was interning at the Thuringia State Parliament. He worked at the state capitol building with a local political party. He learned about the German political system and how laws are made and the impact of laws on society. He also met members of the State Parliament and took a private tour of the legislative chamber. The staff he interned with were so impressed with Diego's work that they recommended him for an internship with the German federal government, and he was selected to intern at the German Chancellery in March! This is an amazing opportunity for Diego, who is interested in politics and hopes to have a career in politics or diplomacy.
Congratulations, Diego!