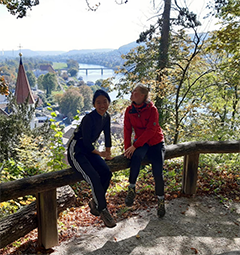 The German Bundestag and U.S. Department of State are pleased to announce Emily Doi as the March Congress-Bundestag Youth Exchange (CBYX) U.S. Participant of the Month! Emily, a CBYX high school program participant from Valencia, California and recruited by ASSE, is hosted by the Kowalenko-Feldmann family in Schwabach, Bavaria.
As soon as Emily arrived in Schwabach, known as the city of gold, she knew her exchange experience would be enriching and just as dazzling as the city's gilded towers. Her host family immediately swept Emily through a series of adventures. For example, Emily and her host sister have jointly stood for climate justice at local Fridays for Future demonstrations. Emily was insipired by this amazing experiences, seeing so many people marching for their beliefs and, as the name suggests, for their futures.
As Emily strolls down thousand-year-old streets to the tune of accordian buskers, she contemplates how she can bring a positive, friendly image of the United States to beauitful Germany and gets unique insights into Germany. A few months before Chancellor Olaf Scholz was elected, Emily had a chance encounter with the nominee. "The elections hadn't taken place yet, and he was in Nuremberg for a Social Democratic Party (SPD) rally […] It was thrilling to get an inside look at how political alignments, rallies, and elections play out in Germany." Emily was later able to observe the German elections process with her host family as they cast their votes at the voting center! She has also learned that punctuality and earnestness are qualities held in high regard in German culture, values she hopes to foster upon returning home to the United States.
In Emily's spare time, she puts her Girl Scout skills to use by helping her host sister with Pfadfinder (the German Scouts). Through Pfadfinder, Emily meets with Scouts between the ages of 8 -11-year-olds, instilling a sense of independence, teamwork, and respect for others. "My presence there, as an exchange student who often makes tragically hilarious mistakes in the language, has also been a way to show the kids that it's okay to be silly and not be 100% sure what you're doing all the time; what matters most is having a good attitude and perservering!
At her high school, Emily plays the cello in the orchestra, gives presentations about the United States in English classes for various grade levels, and seizes every opportunity to deepen connections with her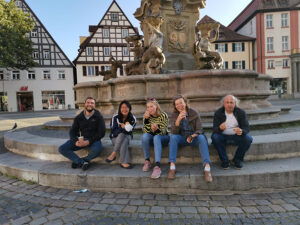 German peers.
At a recent demonstration to show solidarity with Ukraine, Emily played the cello as part of a performance and met representatives of her city's refugee assistance organization. She looks forward to connecting further with the organization and finding ways to contribute at the center as more Ukrainians are welcomed in Schwabach.
Emily's host family is always eager to introduce her to German recipies and she has enjoyed learning with her host family. Emily also shares some of her favorite American baked goods, such as peanut butter cookies and banana bread, with her friends, family, and classmates. She is particularly proud to represent her Japanese and Korean American and Southern Californian identities in her efforts at culinary diplomacy. Her host family has enjoyed several dishes including oi muchim, and huevos rancheros.
Emily reflects "that precarious balance between defining myself and assimilating within this culture is something that has completely broken me, built me up, and changed me for the better all at the same time. And every day I've found something new to love in this foreign place that has slowly become my home."
Congratulations, Emily!