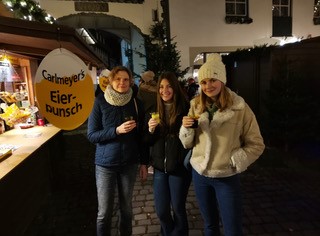 Embarking on the journey to be an exchange student is truly challenging. From leaving family and friends behind, to learning a new language, it is a very demanding experience.
Departing the United States, more specifically, the rural area where I lived my whole life, involved saying goodbye not only to friends but also aging, sick grandparents. It's hard to turn the page when you know someone may not be in the next chapter. I left home with different emotions, both sad and happy.
Upon arrival in my host country, I quickly found out that all the previous German language skills that I learned in school were not enough. It was NOT NEARLY enough. Throughout my years in school I have continuously focused heavily on my academics. Even with good grades and all of the diverse involvements that I have encountered, it is pushing me to grow in many different ways.
My host family met me at the airport with open arms and speaking a language that didn't even seem like anything I had been studying. We drove over two hours by car across a picturesque countryside to a city where I call home, for at least the next year. The first week was overwhelming to say the least, hearing a language that I really didn't understand and learning a whole new way of life with people I did not know.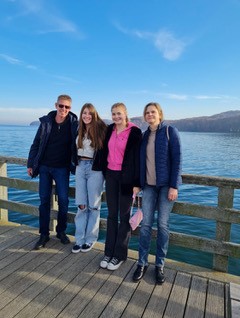 The first month was full of challenges. I had to overcome acclimating to the German school and culture. School is an entirely different kind of institution here. There is less time to socialize and more intense focus on academics. Athletics and extracurricular activities are nonexistent in school leaving more emphasis on future ambitions. In Pennsylvania, I did not educate myself on politics and current events as much as I should have, but in Germany the youth are much more politically involved. Initially when I was asked to speak about my opinion on American politics, I was clueless. Although it made me uncomfortable, it has helped me to learn a lot.
Not only did I experience a struggle with sharing political opinions, but also with independence. In my rural town, I had never really experienced being truly alone and reliant on myself. Even if it was something as simple as going to the store alone, I was always with my best friend or sister. Being alone in public made me feel uneasy so I typically avoided it and relied on my family. Living in Germany has greatly changed my perspective on this. The transition from constantly counting on my parents to living with a family of strangers has taken a lot of bravery and patience. Basic things that I would avoid in the U.S. have become part of my everyday life. I've grown accustomed to going to stores and bakeries as well as biking to school alone. Being in a new country has forced me to grow to be independent and enjoy my own company.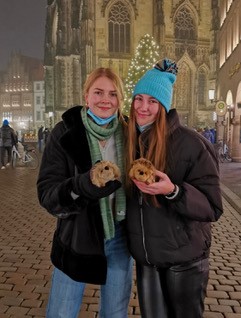 As time goes on, my language skills are improving. I feel more comfortable with all my surroundings. My host family has already shown me so much of their country. We have traveled to the south, near Austria, to hike in the mountains and to the Baltic Sea in the north. We have gone by train to Berlin and to many other cities in between. I am gaining new perspectives on global current affairs, and German social, economic, and political life. This experience is helping me develop life-long leadership skills, learn the German language through full immersion, and make connections all over the world.