The German Bundestag and U.S. Department of State are pleased to announce Nina Loewer as January's Congress-Bundestag Youth Exchange (CBYX) German Participant of the Month! Nina, a CBYX High School participant, is placed by CIEE and hosted by the Pierson family in Portland, Oregon.
Nina is a Junior at Ida B. Wells High School, excelling in all her classes, and making all A's! Nina's dream of playing American football came true this year when she became the first female quarterback for the Wells Guardians football team. In an article about Nina's trailblazing football pursuits, the school newspaper, The Headlight, quoted, "I know that I'm tough. I know that I'm strong. And I can keep up with the guys. And that's what I really like about football." Nina also shared her perspective that "Girls shouldn't be scared of doing something that they're not supposed to do. We can always work as hard as guys can."
Friends and family describe Nina's zest for life as infectious, spreading to all those around her! Being the avid athlete that she is, Nina has pivoted to basketball and has also started a fitness Instagram. When asked what inspired this, Nina shared "Fitness is my passion and therapy and I want to always share my story, experiences and knowledge, and provide others a safe place to share." Nina has also found time to give back to her community. She joined her host family in their work to feed the homeless and has separately volunteered at the Blanchet House, where she prepares bagged lunches for community members in need.
Nina and the Piersons had a memorable Christmas holiday in Portland; It was Nina's first time celebrating the holiday on December 24th, as Christmas is traditionally celebrated on December 25th and 26th in Germany. They celebrated with a holiday breakfast followed by a gift exchange with younger host siblings Saide and Bowie. The Piersons helped Nina check another dream off her list when they took her to an NFL game in Seattle on December 26th, an experience Nina will not soon forget.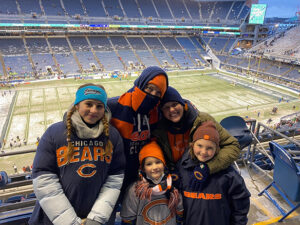 Nina has introduced her host family to a plethora of German traditions this holiday season, including Advents Kranz, or "Advent Wreath," which consists of lighting one candle each Sunday for the four Sundays leading up to Christmas. She also taught her host family how to bake German Christmas cookies. Köstlich! (Delicious!)
Some of Nina's favorite experiences have been engaging in outdoor activities with her family, participating in traditional American holidays, and sharing German traditions with her host family – whether it's playing German board games such as "Level 8″and "Mensch ärgere dich nicht" or cooking German meals with her host family. Nina's exchange year continues to be a culturally enriching experience for her and her community.
Congratulations, Nina!