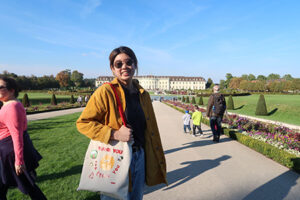 The German Bundestag and U.S. Department of State are pleased to announce Erin Kim as December's Congress-Bundestag Youth Exchange (CBYX) U.S. Participant of the Month. Erin, a CBYX high school participant from Vernon Hills, Illinois and recruited by YFU-USA, is hosted by the Pöckel family in Bammeltal, Germany. Erin has integrated herself very well, is learning the German language with great enthusiasm, coaches a volleyball team, and plays cello in the school orchestra.
In addition, the Illinois native is starting to build a meaningful relationship with her German host family. Erin sees the importance of taking care of her host siblings and helping with the household. She also hasn't held back from sharing a part of her American traditions from home! For Thanksgiving she cooked with her entire host family, giving them insight into the holiday life and culture from her home country. One of her favorite moments of the exchange year so far was a three hour hike up the Alpspitze mountain: "We were sweaty, hungry, and exhausted, but the view of the breathtaking Alps made up for it and we celebrated by eating trail mix and enjoying the view."
In school, Erin displays great curiosity, drive, and talent not only for learning the language but also in presenting extemely relevant topics addressing similarities and differences between the US and Germany. Even her teacher Frau Naeve has praised Erin for making progress and being adept in learning the German language extremely quickly Her linguistic skill allows Erin to contribute her perspectives to classroom discussions, including giving a presentation about globalization in her geography class. Erin is keen to continue improving her German language skills as she sees it as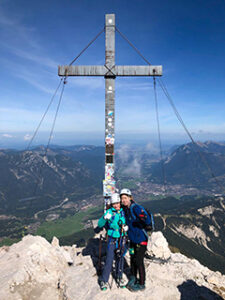 essential to understanding German culture and perspectives. Erin has taken over the the volleyball team training for a group of children. Initially, she communicated with the children using hand gestures but quickly moved to verbal communication to pass on her volleyball skills. Erin has also been playing cello in the school orchestra and getting to know her German peers.
Living in Germany is giving Erin new life perspectives. She notes, "By living in Germany with my host family, I've learned firsthand that we can make small choices that lead to a more sustainable life, such as composting at home and brining reusable bags everywhere – both are habits I've picked up while living here and will continue for the rest of my life."
All in all, Erin's curiosity, her aptitude for language, and her open mind make her an exceptional young ambassador for the United States in Germany.
Congratulations, Erin!