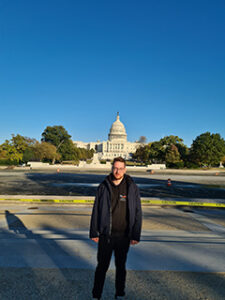 The German Bundestag and U.S. Department of State are pleased to announce Florian Armbruster as December's Congress-Bundestag Youth Exchange (CBYX) German Participant of the Month! Florian, a CBYX Young Professional participant, is placed by Cultural Vistas and hosted by the Burton family in Tallahassee, Florida.
At Tallahassee Community College (TCC), Florian has volunteered in leadership roles, including serving as the Vice President of the International Student Organization (ISO) at the college. Serving as a citizen ambassador for Germany, Florian shares German culture and traditions both informally and through formal presentations for the Tallahassee community. This past October, when Florian learned about the Appleyard Drive Clean-Up and Community building event, he took the reins in planning, organizing, and bringing the community together for the first time in two years. Emily Maurer from TCC notes that the event, which includes cleaning up the road in front of the campus and a shared meal, has "revitalized an old tradition of student commitment for the local community, bringing back to life service to the community." He is also a part of the Model UN Club of TCC where he has represented Germany at conferences, injecting even more realism into the Model UN conferences for all participants.
Florian has enjoyed the chance to connect with a diverse cross section of the Tallahassee community. For example, he is involved with two tutoring programs – the Lincoln Neighborhood Center in Frenchtown and the LeRoy Collins Leon County Public Library Homework Hub. Florian finds the tutoring experience to be very rewarding, stating that his students are "in the 4th grade and mostly need help with math. It's fun because sometimes the kids are the ones teaching me, because I forgot the traditional way on solving multiplication or division equations since I used a calculator since the 7th grade." Additionally, Florian is also a part of the TCC City Band, contributing his life-long experience of playing the tenor saxophone with an American twist. Recently, the band was caught performing at the Tallahassee Winter Festival. With the holiday season in full gear, the band looks forward to spreading holiday cheer by playing traditional Christmas carols for the local senior center.
Florian notes that his exchange experience is broadening his knowledge and understanding of the United States: "It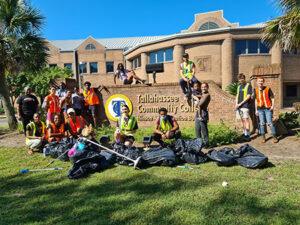 helps to get in contact with new people and their way of seeing the world. Many people are interested in the way someone else sees the world." Florian continues to expose the community of Tallahassee, Florida to many German traditions but also wholeheartedly embraces American customs and traditions, establishing mutual understanding between both Americans and Germans.
Congratulations, Florian!