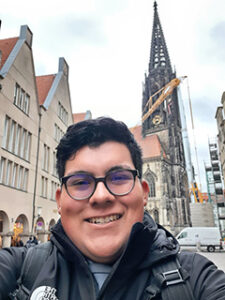 The German Bundestag and U.S. Department of State are pleased to announce José Trejo as the November 2021 Congress-Bundestag Youth Exchange (CBYX) American Participant of the Month! José, a CBYX high school participant recruited by ASSE, is placed by GIVE e.V., and is hosted by the Mogling Family in the beauitful town of Düren, near the River Ru in North-Rhine Westphalia, Germany.
Despite obstacles such as the language barrier and ongoing COVID-19 restrictions. José has adapted fast to his new environment. During his short time in Germany, José has successfully joined the local music school where he frequently practices the cello. He also enjoys giving mini concerts to his family. In addition, José has also contributed to the city of Düren by assisting the evangelic community project "Essen in Gemeinschaft" during his fall break. As a good samaritan, José has helped prepare meals while making new friends along the way. Alongside his volunteer work and fostering his passion for music, José is doing well in school.
José enjoys practicing his German language skills with his family. Moving abroad, and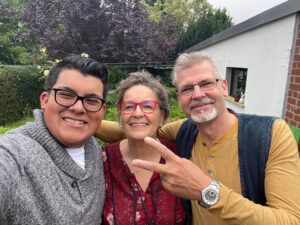 speaking only a bit of German, has offered José a new perspective and given him valuable insight and enriching experiences. His host mother Renate says that José is "a Californian boy with a great heart" and is delighted that they share similar interests in music and sport.
José, a product of the Golden State, says there are many great things he has experienced participating in the CBYX program. He believes that the most valuable lessons he has learned so far include a greater sense of responsibility, personal growth, and perserverance. But despite his many achievements, José credits his host family for allowing him to have an enriching exchange experience: "They made me feel so welcomed, and we made a connection with each other almost immediately."
Congratulations, José!