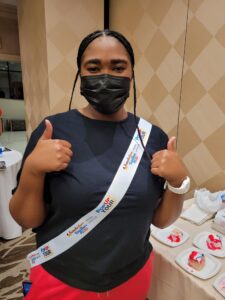 The German Bundestag and U.S. Department of State are pleased to announce Kayla Marshall as the October 2021 Congress-Bundestag Youth Exchange (CBYX) American Participant of the Month!
Kayla hails from Elkins Park, Pennsylvania and was recruited by Department of State partner Nacel Open Door for the CBYX vocational program. She is currently participating in the program's two-month intensive German language course in Bonn, Germany.
Stepping out of one's country and comfort zone often sparks personal growth. Kayla has felt this metamorphosis over the first months of her exchange stating, "From the way I conduct myself, to the way I convey my words knowing the impact they posses, I noticed that throughout all the improvements this exchange has generated, they all result from one thing, the growth of my mindset. This exchange has affected and improved my mindset for the better." Her shift in thinking is is most clearly visible in her changed approach to language learning.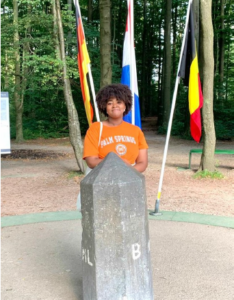 While learning German, Kayla no longer questions the utility of certain words or phrases, opting to embrace a wide variety of topics to expand her lexicon and general knowledge. Kayla reflected, "My mindset grows tremendously each day, and that is all due to the amazing experiences and lessons this exchange provides to me continuously."
Kayla finds her immersive experiences to be empowering. One of Kayla's favorite CBYX moments thus far was when she realized she could understand her host family's German dinner conversation. With newfound confidence, Kayla uttered her first full sentence in German, asking "Kann ich die salat haben?" Her request for salad was met with cheers of excitement! "Even though those five short words are small now, they were such a signficant milestone in my exchange. That moment is one I will take with me moving forward as one of my favorites."
Congratulations Kayla!