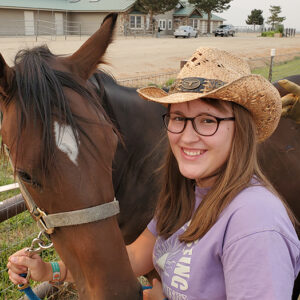 The German Bundestag and U.S. Department of State are pleased to announce Pauline Barmettler as the October 2021 CBYX German Participant of the Month. Pauline, a Congress-Bundestag Youth Exchange (CBYX) high school participant placed by CIEE, is hosted by the Krolicki Family in Stateline, Nevada. Just a few weeks after she settled in with her host family and starting at George Whittell high school, Stateline was evacuated due to the Caldor wildfires that ravaged the area. Pauline and her host family, along with tens of thousands of others, temporarily resettled in Gardnerville, Nevada.
Prior to the evacuation, Pauline had already began to forge meaningful relationships with her host family and others within the Stateline community, including with her new school's soccer team.
Pauline's resilience enabled her to persevere and further deepen relationships with her host family, extended host family, and other community members. Pauline spent time as an evacuee on a farm, which was a culturally immersive opportunity. She was able to help on the farm, which had an influx of animals that were evacuated from Lake Tahoe that needed to be cared for and comforted. Moreover, during this time, she was able to share her German culture with extended host family and friends over traditional German dishes such as weiner schnitzel and apple cake. Pauline's presence brought a great sense of warmth and comort to everyone around her during what was a scary and difficult time.
Once the wildfires subsided and the emergency evaucation lifted, Pauline and her host family returned to Stateline. Pauline is excited to return to her initial routine and reengage with her community and school activities. Although the fire has led to change and variation in the day-to-day operations at school, within the community, and hsot family activities. Pauline continues to move forward with optimism and compassion. As her host family states, "Pauline has handled it all with tremendous positivity and calm, and has been a huge help to both her immediate and extended host family, and to family friends who joined us during the evacuation. In Pauline's words, "America is very exciting!"
Congratulations, Pauline!