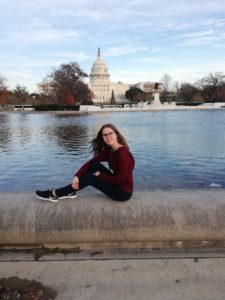 We are happy to announce Lena Axt, a Congress-Bundestag Youth Exchange (CBYX) high school participant, as the April 2019 CBYX German Participant of the Month. Lena is placed by Youth For Understanding and hosted by Sandy Scaia in Cedar Rapids, Iowa.
Maintaining an impeccable GPA, and participating in activities, sports, and volunteerism, Lena is a dedicated and active student at Washington High School. During her first week in the U.S., Lena challenged herself to engage in a variety of school and community activities which were outside of her usual comfort zone, adopting the motto "just do it." Thanks to her adherence to her motto, during her exchange she was in the ensemble of the school production of "The Addams Family" musical, performed as part of the school's mime team in the Iowa High School Speech Association All-State Speech Festival, and joined both the bowling and soccer teams.
Lena brought her love of music with her from Germany and is playing violin in the school orchestra. She is involved in many school clubs that focus on the importance of service to community such as Interact, Amnesty International, Improv, and Fellowship of Christian Athletes. Lena has logged more than 50 volunteer hours during her exchange. This includes being involved in various fundraising events, including playing the violin and wrapping presents with classmates at a local bookstore, and helping to organize a dance marathon at Washington High School to benefit the University of Iowa Children's Hospital. In addition, she, along with 100 other exchange students from 49 countries, packaged 2000 meals for a foodbank in Des Moines, Iowa.
In her spare time, Lena has become a "Minister of Hospitality" at her local church and has dedicated herself to her role as a citizen ambassador by giving multiple cultural presentations on her home country of Germany to people across the state of Iowa.
Lena has been impressed by the commitment to community service that she has seen in the United States and hopes to transfer some of that to her community in Germany. She says, "In the U.S. so many great things are happening with so many volunteers who take their time to make their communities better. I want to collect as many good ideas as possible, to have a positive effect on my community back home."
Congratulations, Lena!
U.S. Department of State
Bureau of Educational and Cultural Affairs