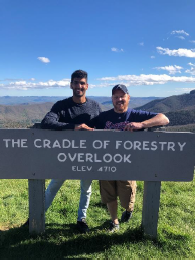 We are happy to announce Ouail Mehloul, a Congress-Bundestag Youth Exchange (CBYX) young professional participant, as the July 2019 CBYX German Participant of the Month.
Ouail is placed by Cultural Vistas and has had the unique opportunity to create an impact on two separate host communities here in the U.S. He was first hosted in Robinson, Illinois for the college phase of his program before moving to Columbia, South Carolina to begin his work as a chemical technician. In both locations he integrated very smoothly into host family life, and though he is now in South Carolina, he remains in close contact with his host family in Robinson.
While in Robinson, Ouail got very involved in the local youth soccer leagues. By the end of his time there, he had helped coach three separate teams and completed well over 100 hours of community service. He became a fixture of the community, being greeted as Coach Ouail throughout the town.
Ouail really enjoyed having this experience and said, "Nothing gives you more back than working with children, they literally learned to love soccer like I do! My biggest dream became true. They always asked me after a practice, how many days they have to wait until the next practice starts. That showed me how important the practice was for them and how they really trusted me and my skills."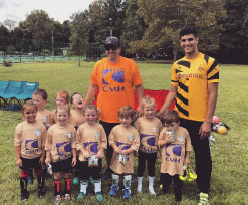 In addition to soccer, Ouail also spent many hours helping his host family out on their farm. Together, he and his host dad built a new fence to keep their cattle from escaping.
As a chemical technician who already had three and a half years of training before coming on program, Ouail has been able to apply his knowledge to his position at Weylchem in South Carolina. Initially, he was placed in an assistant position, but within a month, he was promoted to chemical operator where he is responsible for his own project. Ouail adapted very easily to all the new equipment, measurement units, and technical terms in his new position. He has also used his knowledge of German safety standards and regulations in the workplace to help ensure the safety of his colleagues, and has even been teaching his colleagues some German.
Congratulations, Ouail!
U.S. Department of State
Bureau of Educational and Cultural Affairs