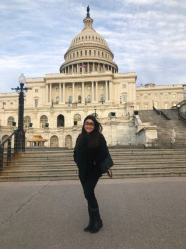 We are happy to announce Ilayda Dogan, a Congress-Bundestag Youth Exchange (CBYX) high school participant as the June 2019 German Participant of the Month.
Ilayda is placed by AFS-USA and hosted by Emily Gonzalez and Remi Depommier in Massachusetts. Ilayda has found a number of different ways to give back to her host community, and the American community as a whole.
At Haverhill High School, Ilayda participates in the Drama Club. Having participated in drama for many years in Germany, she was excited to bring her passion to English plays, and participated in productions of "It's A Wonderful Life" and "Footloose" with her classmates. Ilayda also participates in the Model United Nations (UN) club, through which she had the opportunity to attend the National High School Model UN conference in New York City. Her school represented Syria, which was significant to Ilayda because she volunteered for a refugee camp in her hometown in Germany. When she was invited to the Syrian Embassy, she eagerly spoke with the Ambassador about her experiences volunteering and her concerns for the future of Syria. Ilayda was very grateful for the opportunity to engage in a topic she cares so much about, and felt that she had done well serving as a citizen ambassador — what she believes all CBYX students should be!
Ilayda's political engagement did not end there. During the month of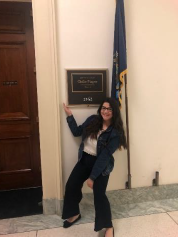 February, Ilayda was an intern for Chellie Pingree, the U.S. Representative for the state of Maine. During her internship, Ilayda fielded calls and emails from citizens all over the country, and learned about American politics through first-hand experience. Here, she discovered her dream to work in politics in an effort to help others. Ilayda said that this was her way of saying thank you to the U.S. Government, because "without the support from both legislatures, this program wouldn't become reality and I wouldn't make life-changing experiences."
The impact that exchanges have on communities is evident in Ilayda's experience. Because of her many cultural presentations at school, several people have planned trips to Germany, including a school field trip that will take place next year. Likewise, because of her example, an acquaintance has applied to participate in next year's outbound CBYX cohort.
Congratulations, Ilayda!
U.S. Department of State
Bureau of Educational and Cultural Affairs