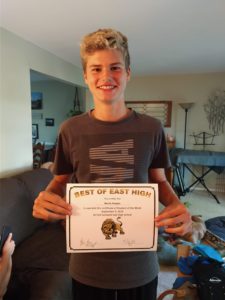 We are happy to announce Moritz Hütgen, a Congress-Bundestag Youth Exchange (CBYX) high school participant, as the November 2019 CBYX German Participant of the Month. Moritz is placed by YFU and hosted by the Ralston family in St. Peters, MO where he attends Fort Zumwalt East High School.
Moritz has had a fantastic start to his exchange year, eagerly filling the role of cultural ambassador and demonstrating the power and importance of exchanges. During his first few weeks at school, his Geometry teacher, Erin Coleman, nominated him for Student of the Week, stating that Moritz "has been a great example of work ethic and respect" and that he is a "positive and supportive member in a group setting."
As captain of his high school soccer team, Moritz is regarded as a great example on and off the field. His coach, Mackenzie Cork, remarked that Moritz is the ideal role model, maintaining patience and composure in the face of adversity, which encourages others to remain kind and patient during stressful situations. Ms. Cork also noted that Moritz's discipline for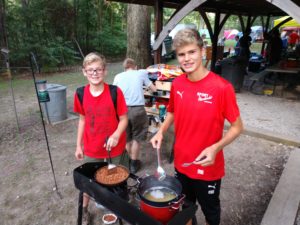 the sport motivates his teammates.  Moritz and his teammates have enjoyed getting to know one another's cultures. He willingly answers questions about Germany and has especially enjoyed sharing his favorite German songs that get him pumped up for soccer games. The bus rides to games now include a mix of American and German music. Moritz welcomes the opportunity tot talk with people who have connections to Germany, including a referee at a soccer game who spoke German with him during the coin toss.
Moritz's sportsmanship and great attitude have also contributed to the strengthening of his host community. He volunteers at his host brother's soccer practices, setting an excellent example to the middle schoolers, and youth coaches who have commented on his manners, drive, and ability to connect with them. To spend more time with his host brother, he has also gotten involved with the Boy Scouts. Together they helped set up a large walk event for the American Foundation for Suicide Prevention, ensuring everything would be in place to support the walk participants.
Moritz has been surprised by how fast one can get to know new people and new places. He is also surprised at how different it is learn a culture from within rather than from one's home country. He states that the best reason to go on an exchange is that "You get new friends, a second family, a second environment you live in. All in all you could describe it as a second life."
Congratulations, Moritz!
U.S. Department of State
Bureau of Educational and Cultural Affairs