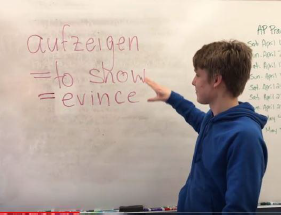 We are happy to announce Tilman Beyer, a Congress-Bundestag Youth Exchange (CBYX) high school participant placed by Youth for Understanding, as the May 2019 CBYX German Participant of the Month.
Tilman is hosted by the Nelson family in Kalamazoo, MI and attends Comstock High School. He has become heavily involved with his school and community. During the fall, Tilman was on his school's cross country team and he is currently on the track and field team. Outside of athletics, Tilman is a dedicated member of after school Key Club.
Tilman has developed a unique and creative way to help his peers learn about German culture. At Comstock High School, he has created a special segment on the daily news broadcast. The segment, "German Word of the Day," allows students to guess the meaning of a German word or phrase provided by Tilman and those who guess correctly receive German chocolate. His segment has become so popular that he has had to ask his parents to ship more chocolate to Michigan! Tilman's peers, teachers, and the superintendent have raved about his addition to the daily student news.
In addition to the "German Word of the Day" segment, Tilman introduces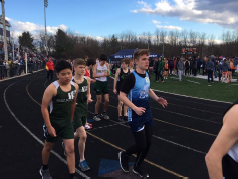 German culture to his peers by giving presentations about European and German politics, history, culture, and language. He developed four different presentations to bring Germany to his school and used these presentations in more than 15 classes. Tilman notes that "while giving several presentations about Germany and Europe I was able to teach American students things they never heard before about Europe." He makes learning sweet, by giving German chocolate to those who answer questions correctly and achieve high scores  on quizzes.
Tilman has developed a second home in Kalamazoo and has grown into a confident, independent individual. He has been able to develop a better understanding of different points of view and make lifelong friends.
Congratulations, Tilman!
U.S Department of State
Bureau of Educational and Cultural Affair.s