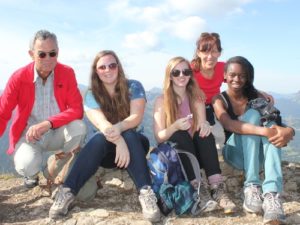 Participant Yaa K. writes about her experience in Germany, while attending a language camp for the first month of her stay.
Imagine this, waking up early in the morning and going down to the dining room to find a placemat, set deliciously with American style pancakes and scrambled eggs. Your host mom specifically made this breakfast just because you once mentioned your favorite breakfast meal is pancakes and eggs. As you dig into your food (after taking a quick picture), your heart warms up. You can't imagine how your hosting organization managed to match you with such a kind, thoughtful and understanding host family. As you bask in the moment a little longer you cannot help but think "this is the perfect host family."
This was my reality living with my language camp host family for the first month in Germany. They gave me a great first impression of this astonishing country, and made it easy to integrate into this new environment. They wanted to show all the wonders Germany offers, and were just as eager to learn of my African heritage, as I was of their culture.  One of their favorite hobbies, that I was enthusiastic about trying for the first time, is hiking. I was bustling with excitement, and curiosity, however they left out one important detail: we were not hiking just any hill we were, in fact, hiking in the Alps! Now, how many teenagers can say they went hiking in the Alps? Although it was a hard and exhausting trek, we made it to the top of the mountain, and words cannot capture the beauty and splendor of the mountains, in addition to the exhilarating feeling of accomplishment, having reached the top.  I was proud of myself and this special moment was made possible by my host family.
My language camp host family has made a lasting impact on me, and I am forever grateful. At our final goodbye at the train station as I transitioned to my academic year host family, I sat waiting for my train to depart.  I looked out the window and saw my host family, still waiting to see my train depart.  In that moment I realized during the course of the time I shared with them, I had become a member of the family. We spoke German, always ate every meal together and discussed the similarities and differences between the United States and Germany.  We were truly a family. My eyes felt heavy with tears, as the train started moving.  A huge smile beamed across my face and I began to wave frantically. My host mom, waving, ran alongside the moving train until the platform ended. Over the course of a month I formed an unbreakable bond with my host family and gained a very special second family.  This would have never been possible without the CBYX program, my hosting organization and the U.S. Department of State.
This is a life-changing experience, one that I never envisioned as possible. As the daughter of an amazing single mother who goes above and beyond to ensure the dreams of her children are made possible, the financial means to fund this exchange experience are not available. I would like to sincerely thank CBYX for changing my life, and building the character of a future leader, and innovator.
"A mind that is stretched by a new experience can never go back to its old dimensions." -Oliver Wendell Holmes Jr.
– Yaa K., CBYX Participant
Photo includes Yaa K., American CBYX participant in Germany, hiking with her German host family.