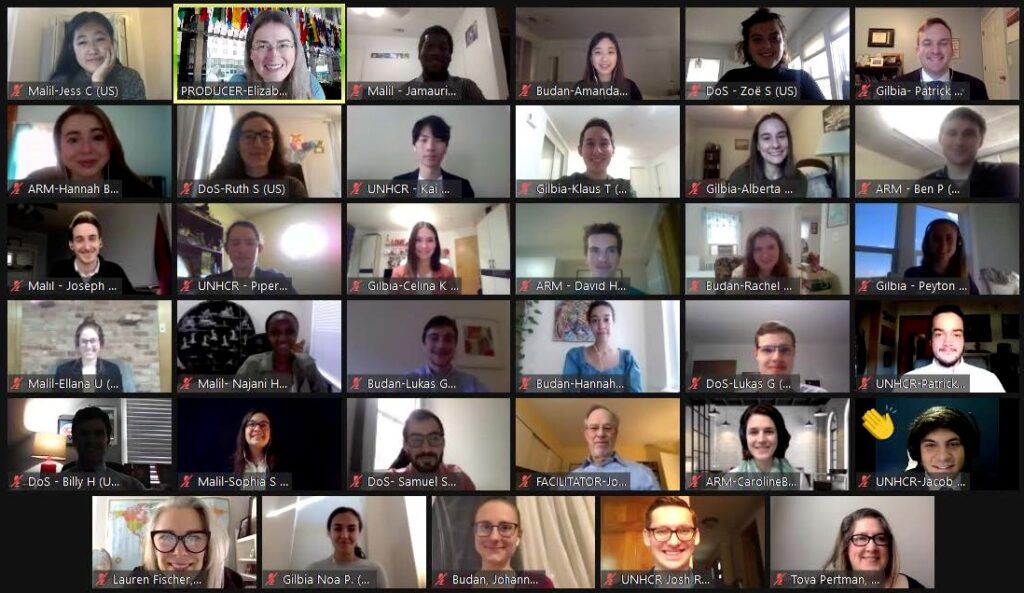 As part of the 2020-2021 Congress-Bundestag Youth Exchange (CBYX) virtual program, more than 350 American and German high school, vocational, and young professional participants engaged in small group diplomacy simulations that challenged them to work together and formulate solutions to complex global crises.

Stepping into the shoes of diplomats, American and German CBYX participants came together and practiced skills such as active listening and negotiation while role-playing as representatives of fictional states or organizations. Their task was collaborating to develop and debate proposals to resolve an international crisis modeled on real life scenarios. One participant noted, "I loved getting to talk with and work with so many different people with so many different views. There were a few perspectives people agreed on, but they all brought different details and points to contrast or add to ideas which was really cool to experience." Another participant said, "It was very interesting to work with the other CBYX participants to solve the issue at hand. I learned a lot from the other participants and gained perspective about diplomatic strategy."

The CBYX program team recruited seasoned Department of State diplomats to facilitate each simulation group, utilizing their unique skills and experience to guide participants through the exercise. At the conclusion of each simulation exercise, participants had the opportunity to debrief with their assigned diplomat facilitator, reflect on the exercise, discuss the skills they used and how those skills transfer to their everyday lives, and to ask questions about how this type of event would unfold in real life.

After the simulation was over, a CBYX participant stated, "I really appreciate this inside view of diplomacy. My career path seems to be ever shifting and in constant flux, but I feel like my influences each day help me grow in my career goals. This simulation definitely showed me what a future diplomatic career could look like, which will be something for me to consider as I grow in my understanding of my career."

The Department of State's CBYX program team organized the diplomatic simulation events using scenarios and materials developed by the National Museum of American Diplomacy. The simulation scenarios and materials are available for download at: diplomacy.state.gov/discover-diplomacy/about/.