Participants of the 2020-21 Congress-Bundestag Youth Exchange (CBYX) program continue to build connections between the U.S. and Germany through a variety of virtual exchange activities.
---
As part of the 2020-2021 Congress-Bundestag Youth Exchange high school program, more than 300 German and American CBYX high school participants attended the program's Virtual Civic Education Workshop to gain a deeper understanding of American and German systems of government and civic participation, develop cross cultural awareness, and hone their leadership abilities. The Workshop offered a unique opportunity for participants to interact and learn from each other. In a series of ten sessions, participants came together to collaborate on topics such as media literacy, conflict resolution, and diplomacy. The Workshop cultivated participant critical thinking, teambuilding, decision making, and goal-setting skills. One American participant noted, "I learned about the value of teamwork. The ability to interact with my German peers helped me gain a new understanding of their country, culture and of intercultural possibilities." Another participant said, "I learned over the course of the CBYX workshops how to utilize different forms of communication. This is so important because being able to communicate is huge for progress and no one form of communication is going to be right for every situation."
One of the workshop sessions empowered small groups of participants to think about ways they can address problems in their communities using the resources they have at hand and their own time and talents. Participants were introduced to the DO IT model of project planning: Define a problem, Outline options for addressing the problem, Identify a problem statement and goal statement using SMART Objectives, and Take action by developing an action plan to implement the project.
Participants tackled a wide range of challenges and came up with innovative solutions. One group proposed partnering with local businesses to create a shared technology and Wi-Fi study space for students, with the aim of addressing inequality in access to education. Another group proposed an inclusive sports day designed to facilitate relationship-building between different groups of people and to raise funds for an elevator to improve accessibility at their school.
The CBYX Virtual Civic Education Workshop series was facilitated by American Councils for International Education, in cooperation with the U.S. Department of State and the German Bundestag.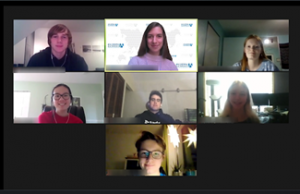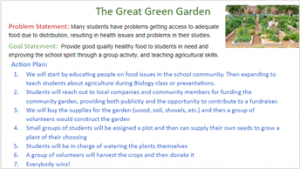 A small group of Grassroots Activity Session participants and their "The Great Green Garden" project presentation.
---
The Congress-Bundestag Youth Exchange is a joint program of the U.S. Government and the German Bundestag. The original version of this article can be found here.