American participants of the 2020-2021 Congress-Bundestag Youth Exchange (CBYX) program continue to build connections between the U.S. and Germany through a variety of virtual exchange activities.
---
During this otherwise challenging and unusual year, American participants of the 2020-2021 Congress-Bundestag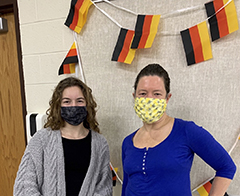 Youth Exchange (CBYX) virtual program gained new skills, experiences, and connections that they will carry with them forever. Amid lockdowns and quarantines, the CBYX virtual program broke down barriers and made the world a little closer and a little brighter for these exceptional participants and their German peers and host families.
Reflecting on skills she developed as a CBYX virtual program participant, Amanda Rosen shared that she learned to explain things to her German peers in different ways to help them better understand a particular word or unfamiliar phrase in English. The ability to communicate clearly and simply and to recalibrate an explanation for different learners has helped her in her daily life, as well. Amanda, who coaches gymnastics in her community, said, "Practicing how to simply explain things has definitely helped me to become a more patient and understanding coach."
Evan Borodin shared that his favorite part of the CBYX virtual program has been the language lessons, which he feels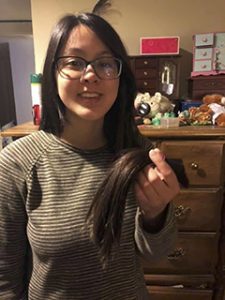 have helped him become a more mature global citizen. By learning German with the CBYX virtual program, Evan feels that he has been able to adapt to unfamiliar environments, make new friends, and learn more about German culture. Evan has taken the virtual program as an opportunity to expand his knowledge, to become a more educated and informed citizen, and to connect with peers both in Germany and the United States.
By participating in the CBYX program, Sonja Jaturarat shared that she has found new ways to give back to her community, using her newfound knowledge to stay active in her hometown and help where she can. In the past year, she has donated her hair to Locks of Love and some of her books to local libraries. Sonja believes that a happy community is a healthy one. While she acknowledges that this year has been difficult, Sonja also shared that the CBYX virtual program has allowed her to learn about German culture, both independently and through the program's online interactions.
Justin Ciletti and his virtual host family have been teaching each other about their cultures. Justin made maple syrup and shared pictures of the process with his host family, and he will be sharing a special lemon pasta recipe that his family makes for every mom-related holiday. His host mother Leonie has been sharing various holiday traditions with Justin, including "Dreikönig," or "Epiphany," and "Fastnacht," also known as "Carnival" or "Fasnet" in their regional dialect. Justin and Leonie are also working on a musical project together.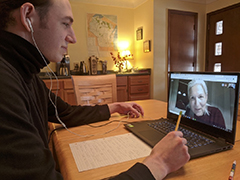 Celeste Bryant appreciates how interactive her workshops were. "We get to answer questions, share our thoughts, work in groups, and more. It's really fun getting to talk with others around the country and globe on different issues and topics. I also like how detailed the sessions are. They teach me about topics I knew little to nothing about and expand that knowledge a great amount. The sessions are very, very fun to participate in." Learning from and interacting with others from varied backgrounds is one of the highlights of exchange programs for many students like Celeste.
---
The Congress-Bundestag Youth Exchange is a joint program of the U.S. Government and German Bundestag. The original version of this article can be found here.