CBYX alumna Misheel K., hosted in Achim, reflects on her time abroad in Germany. 
My experiences in Germany expanded my worldview. One lesson I took home is that simply visiting a country as a tourist doesn't do a country or its people justice. While travel is a good place to spark interest in a country, being immersed in local daily life is a more meaningful experience, and teaches you more about a country than a book or tour. When I have been on vacation outside of the U.S., I could never imagine what school life was like, what teenagers do for fun, or how families interact with each other. By being fully integrated and immersed in daily life in northern Germany as a CBYX scholar, I was able to experience the country from the inside.
Meeting and sharing experiences with other American participants, and other exchange students in Germany from other countries, helped me become a much more confident and culturally aware person. Spending a month together with the other CBYXers during our language training was a great way to begin the year, since we were all going through the same experiences, including some culture shock. Based on the bonds formed during that month, we helped each other later on during the program in Germany, and now, as we adjust to our lives back in the U.S.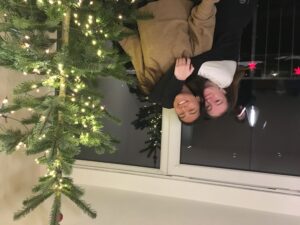 Since being an exchange student means constantly meeting new people, I have become a much more outgoing person, and I feel comfortable approaching people and introducing myself. My friends at my German host school had a German friend who was abroad in the U.S. while I was in Germany. Her family later became my second host family! My school friends would ask me questions about how to help her adjust to life in the U.S. My German friends were also very helpful in making sure I understood everything that went on both in class and when we would socialize outside of school. In addition to these friends, my host families were amazing and kind. They were just as interested in learning about American culture as they were about sharing their own culture with me, and they helped me with settling in to daily life in Germany and in learning German. Without them, my German language skills wouldn't be nearly as good as they are!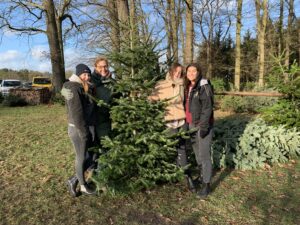 The Christmas holidays were my favorite time during my stay. My experience with Christmas in Germany was that it's taken to another level, and celebrated throughout the entire month of December. From Christmas markets (Weihnachtsmärkten) to advent calendars, and from baking to family time, the Christmas feeling that begins on December 1 is something very special! Highlights for me were going ice skating and visiting the Christmas market with my best friend, decorating a Christmas tree with my host sister, and shopping for a Christmas tree with my friend and her family. These memories are very special, and are a perfect example of bilateral relationships built by the program — I'm bringing those experiences back with me to my own community in the U.S. and plan to share them, maybe including recreating some German Christmas traditions!
I'm grateful for being part of the CBYX experience and the important German – U.S. transatlantic relationship!