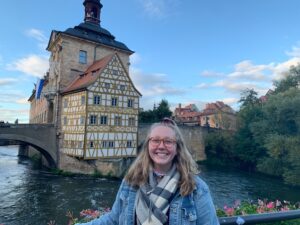 2019-20 CBYX alumna Ginger M., hosted in Bayreuth, reflects on her time abroad in Germany.
Being an exchange student in Germany was the best experience of my life. The friends I made, the places visited, and the life I created in Germany impacted how I identify myself today. I consider myself an American ambassador, bridging the transatlantic gap between Germany and the United States. Being a CBYX scholar helped me discover what it means to be a global citizen. CBYX made me more aware of how I handle myself and of my interactions with others. I am also more comfortable and confident in my abilities in embracing new cultures, traditions, opinions, and perspectives that are different from my own. I have grown as an individual and am starting to find my place in the world, realizing how I would like to positively impact others.
The CBYX program changed my life, supporting me not only financially, but emotionally as well. I would never have been able to study abroad without the program. Becoming fully immersed in a different culture was such a fascinating experience. From speaking a different language, to living with a host family, to attending a different school system, Germany was an adventure that CBYX made possible.
Some of my favorite experiences from my life abroad were spending time with my host family, hanging out with my friends, and becoming involved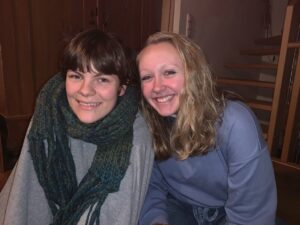 in many activities. Something as simple as learning a traditional Bavarian card game with my host family was special and made me appreciate family time. Volunteering with my host sister every Wednesday night to teach scouts created a long-lasting bond. Getting lunch with my friends after school made me feel like part of a community. Participating in a theatre group and performing a play was fun, and took me out of my comfort zone.
One of the greatest challenges of my study abroad was going to a German high school. Taking advanced, thought processing classes such as Religion and German literature was stressful. Amidst the sophisticated vocabulary and deep conversations, I was still able to find joy in learning how another culture manages education. After a few months of school, I started to really get in touch with the language and could understand what was being taught. One achievement that I was very proud of was taking my German class's four-hour mid-term exam. I was very nervous and didn't think I could do it. I had to analyze text and write an essay, all in German. I persevered and just kept writing, even if what I was saying wasn't completely correct. To my surprise, when I received my exam back, my teacher told me I had an 8th grade understanding of the language. I was so excited that I wrote an essay at a middle-school level, despite being in high school. I was proud of what I had accomplished and will always remember that day.
I will never forget my amazing experiences in Germany. I keep in touch with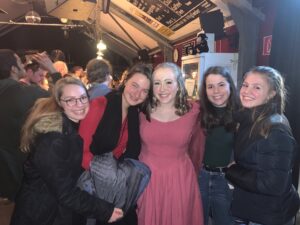 my friends and host family, and am planning my return to Germany. Being an exchange student changes you for the better. What you experience in an exchange year cannot be compared to learning in a classroom at home for a year. It is the chance to make a big change in your life and to take a risk. The things I learned during the CBYX program in Germany meets, if not exceeds, what I learned during my entire education at home. I thank the CBYX program for introducing me to the world and importance of study abroad!