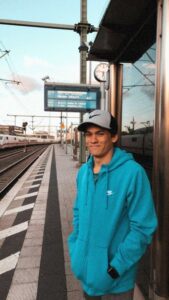 CBYXer River H. reflects on his first two weeks with his host family.
Hallo zusammen!
The first couple weeks with my host family have been an interesting adjustment period, but overall the time has been great and I've had a lot of cool, small experiences!
After arriving in my host community over the weekend, I spent the first couple of days with my host family to adjust to living in a very new place. One of the biggest changes for me this year will definitely be going from a very large, urban setting to a much smaller, more remote town. In America, I could hope in my car and get to McDonald's in two minutes, now it's a 20 minute bike ride away, now it's a 20 minute bike ride away. Of course, some CBYXers are placed in huge cities like Berlin and Hamburg, but most are in more rural places. This is an adjustment period not just for me, but for everyone on the scholarship.
A couple of days after arriving, I went with my host sister to Bielefeld, a large city in western Germany not far from where we live. One of the most exciting reasons to go there is to go to Starbucks, since there are none in my host community. Going to Starbucks in Germany as an American is a humorous experience because it's kind of like an American "safe house"; you go inside, and everything is exactly the same as in American Starbucks, down to the menu, which is still in Starbucks' proprietary language, derived from English. One of the interesting things about going to a different country is seeing the far-reaching influence that America has in many places, especially in western European countries like Germany.
The second week, I met up with another CBYXer, Calvin, and went with my host sister to Münster for an exchange student fair. While there, I got to meet someone advertising the CBYX program and helped talk to people interested in applying for CBYX to go to the United States. Small world!
One of the many things that makes my host family a perfect fit for me are their two dogs, Snoopy and Buddy. This weekend, we got to go to an event called "Hundeschwimmen," where all dogs from the town can come to the local pool and swim on the last day of the pool season, before the pool closes for maintenance and cleaning. It was really cool to get to see all of the super cute dogs swim around in the pool, fetching balls and meeting other dogs! It was also a great way for me to meet other people that my host parents know. One of the coolest things about living in Germany with a new family is getting to do something new and exciting very often, since they come from a very different culture than yours. So far, it has been extremely rewarding, and I am looking forward to getting to do more cool new things with my host family!