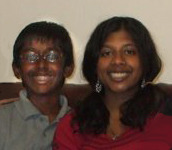 New York, NY – Sharabesh Ramesh a high school student from Monroe, OH has been awarded the Congress-Bundestag Youth Exchange (CBYX) scholarship, which covers a year of study and cultural immersion in Germany. The CBYX program is operated under funding by the U.S. Department of State. Sharabesh is one of only 50 students in the Northeast to receive this prestigious scholarship, and will be spending the 2012-2013 academic year living with a German host family and attending a local high school.
Sharabesh was selected as a Congress-Bundestag scholar due to his demonstrated academic qualifications, cultural open-mindedness and motivation. Sharabesh will serve as a "youth ambassador" from the United States for the academic year, while participating in educational, cultural, and political events, including receptions and meetings with both German and Government officials.
Introduced under a presidential initiative in 1983, the CBYX program aims to strengthen U.S.-German relations through citizen diplomacy and cultural understanding. In this time of global interdependence, the strong ties that bind the U.S. and Germany through trade and diplomatic relations are essential in U.S. foreign affairs. The CBYX program sees the importance of youth ambassadorship as a means to strengthen these ties. Dedicated supporter Senator Richard Lugar (IN) calls CBYX "an extraordinary opportunity to learn about the world, gain a deeper understanding of people and issues, build lifelong skills, and expand horizons."
To learn more about the CBYX program and find out how to apply for the 2013-14 academic year, visit www.usagermanyscholarship.org.
Picture includes Sharabesh and his sister, Kshirajaa, who is a CBYX alumna from 2010.
The original version of this article was posted on Cincinatti.com on June 13, 2012.