We are happy to announce Nicole Luncz, an ASSE-placed Congress-Bundestag Youth Exchange (CBYX) high school participant from Bavaria, Germany as the December 2018 CBYX Participant of the Month.
Nicole is hosted by the Huelskamp family in Sidney, OH and attends Fairlawn High School. Although Nicole had never been on a sports team before, she joined the school volleyball team and faithfully attends every practice. In an effort to further develop her leadership skills and to meet more students, Nicole joined the Spanish club, where she serves as the officer for events and communication.
Nicole takes every opportunity to enrich her knowledge of American culture and history. She visited a Pow Wow as a way to learn about Native American culture. While visiting a Civil War reenactment she spoke with the battle surgeon and learned a lot about medical treatment of soldiers.
Nicole is dedicated to giving back to her host community, helping out wherever we can. She volunteers in the Leaders Club at the YMCA, with a group called "Wrapped in God's Love," which makes blankets and other items for children at the local hospital, at the Knights of Columbus Friday fish fries, where she has done several mini country presentations and where patrons anticipate speaking with her, and with the FFA preparing meals to benefit the Children's Hospital in Dayton.
Nicole is making the most of her time here in the U.S. by enthusiastically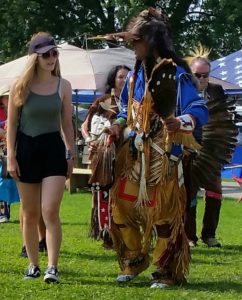 sharing her German culture and her exchange experience with those she meets at school, volunteering, and events she attends. For Halloween, she dressed in a dirndl (traditional dress) in order to share her culture with her schoolmates.
Nicole has seen great rewards from her exchange program, including the sharing of cultures and improving her English skills, but she has also learned more about herself, her personal strength, and overcoming fears. It can be difficult living in a foreign country without your family, but Nicole has used this time away from home to develop independence, resilience, and the importance of maintaining a positive outlook, something she shares with her host family and peers. She states, "My ultimate goal for this year is to return home and say I don't regret any choices I have made and that the new friends and my new family I left behind in the U.S. will not only see me as another exchange student, but as Nicole Luncz, a smart, inspiring, positive and strong girl that had changed her new given community." She wants to take this strength and positivity back home to inspire and empower others.
Congratulations, Nicole!
U.S. Department of State
Bureau of Educational and Cultural Affairs