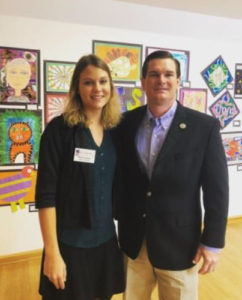 We are pleased to announce Nicole Peckhaus, a participant of the Congress-Bundestag Youth Exchange (CBYX) for Young Professionals from Leverkusen, Germany, as the June 2018 CBYX Participant of the Month.
Since arriving in Valdosta, Georgia last August, Nicole has kept busy. She has been taking classes at Valdosta State University and working in the Valdosta Chamber of Commerce as the South Georgia Military Affairs Council Assistant. In her position, Nicole interacts with the service men and women of Moody Air Force Base. This year, she organized a kick-off event for "South Georgia Loves Moody Week." The week-long celebration was extremely successful, being attended by Congressman Austin Scott (left) and helping earn Valdosta recognition as one of the five Great American Defense Communities, an honor given by the Association of Defense Communities. This summer, Nicole will attend a national summit in Washington, D.C. where she will represent the South Georgia Military Affairs Council.
In her free time, Nicole volunteers in nine local school gardens. She gives presentations and works with students in the gardens, teaching them how to grow produce. This enables their schools to provide a healthy and cost-effective lunch. Nicole's volunteer work is through the Master Gardener Extension Volunteer Program, an organization dedicated to educating communities on the environmental influence and positive impact a local garden creates. She became involved after a CBYX host parent, Annie Barbas, encouraged her to volunteer. The benefits of Nicole's work are far greater than a yummy lunch. While playing in the garden allows Nicole to teach students about responsibility and nutrition, it also provides an opportunity for her to share stories about Germany with the children and learn about the diversity of perspectives American students have. This is her favorite part of volunteering – that it facilitates an exchange of experiences. When Nicole returns home to Germany, she hopes to begin a similar program that helps bring healthier lunches to public schools.
Nicole's involvement in the community of Valdosta exemplifies the contributions the international exchange participants make to America. The connections she has made by being an active member of her host community have made this past year, as Nicole says, "unforgettable."
Congratulations, Nicole!
U.S. Department of State
Bureau of Educational and Cultural Affairs