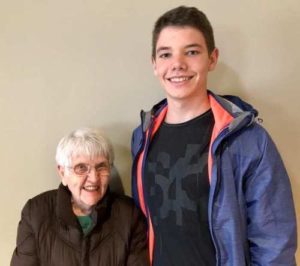 We are pleased to announce Franz Bergholz, a Congress-Bundestag Youth Exchange (CBYX) student hosted in Bremen, Indiana, as the May 2018 CBYX Participant of the Month!
Franz was placed by Department of State partner ASSE at Bremen Senior High School, where he has demonstrated academic aptitude and maintained a 4.0 grade point average throughout his exchange year.
Outside of school, Franz has found many ways to contribue to Bremen through volunteer service. At a local nursing home, Franz is helping one of the residents, Joan (pictured), to write her memoirs.
At a local church, he assists the Sunday school teacher and helps out with various chrch events including the Holy Walk, a tradition stretching over 30 years in th town of Bremen where people are invited to take a winter walk through a recreated Bethlehem.
Franz has also helped his host community by volunteering with the organization Feed My Starving Children, helping his high school's maintenance department, tutoring, and even baling hay.
Franz says that volunteering gives him a great deal of enjoyment and helped him make connection within his host community. He especially cherishes the stories that seniors at the nursing home share with him. He notes that community service has helped him to develop better time management and leadership skills.
When not at school or volunteering, Franz enjoys hanging out with his host family and taking trips with them.
Franz is an excellent citizen ambassador. During his exchange year, he has succeeded in bridging differences and fostering mutual understanding not just across oceans, but across generations.
Congratulations, Franz!

U.S. Department of State
Bureau of Educational and Cultural Affairs