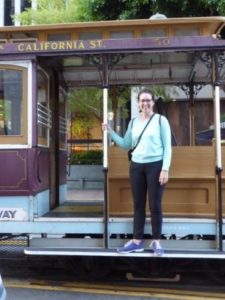 We are pleased to announce Clara Merkel, a Cultural Vistas-placed, Congress-Bundest Youth Exchange (CBYX) participant from Kassel, Germany as the March 2018 CBYX Participant of the Month.
Clara, a CBYX Young Professional, has found a perfect fit with her St. Cloud, Minnesota host community. In addition to taking classes at St. Cloud State University, Clara uses her skills as a costume maker to help Minnesotans look sharp through her work at Stitch It USA, a custom clothing alteration store in St. Cloud. This work experience is helping Clara to refine and further develop her tailoring and customer service skills.
In her free time, Clara enjoys spending time with her host family. She has given several presentations at her host brothers' high school to help American students explore the differences between American and German culture. She has also learned from cheering on her host brothers' in their sports. Clara finds American sports particularly interesting because there are aspects, like playing the national anthem before every match, that she had never experienced before.
Clara is also involved in her community as a volunteer: she uses her aptitude as a costume maker to serve on the wardrobe crew for the St. Cloud University Theater Program. Clara served as the Wardrobe Chief for one of her school's productions through which she helped with costume maintenance before, during, and after performances. She had the opportunity to work with the actors as a stand-in during rehearsals, and she played a critical role behind the scenes. Clara is thankful for this experience, which has helped her hone her career goals. She describe that "during the show I learned new things about my profession, and I definitely know now that I want to work for theaters when I am back in Germany." Clara's experience is a great example of how exchange programs like CBYX benefit both Americans and Germans: she is using the skills she developed in Germany to benefit her American community, while augmenting her skillset, which will benefit Germany when she returns from her exchange year.
Congratulations, Clara!
U.S. Department of State
Bureau of Educational and Cultural Affairs