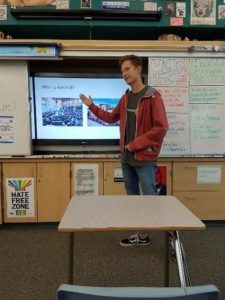 We are pleased to announce Tim Oswald, a YFU-placed Congress-Bundestag Youth Exchange (CBYX) student from Germany, hosted in California, as the November 2017 CBYX Participant of the Month.
Tim has consistently shown a positive and thoughtful spirit regarding family, school and community. He enjoys talking about Germany and educating his host family members and friends about his home country while actively seeking a personal connection with the local people and culture.
An active member of his school community, Tim participates in five diverse school clubs and runs on the varsity cross country team. He is also an active community member; he has already completed more than 25 hours of community service at the Habitat for Humanity ReStore – a nonprofit home improvement store that helps build strength, stability, self-reliance and shelter in local communities and around the world.
Tim enjoys discussing Germany, especially politics. His host family and those around him are very impressed with his extraordinary interest in, and understanding about, German politics. He was able to utilize his knowledge and expertise during a presentation on the recent German elections he gave to a joint meeting of his high school's Politics Club and Model United Nations Club. He has been continuing his studies of German politics in America by learning about the German-U.S. relationship and diplomatic connections. He has reached out to set up a meeting with Hans-Ulrich Südbeck, the Consul General in San Francisco, in an attempt to deepen his understanding and gain knowledge of diplomatic efforts.
Tim has shown himself to be an exemplary citizen and role model for the CBYX program with an incredible amount of enthusiasm and intelligence as a 16 year old scholar.
Congratulations, Tim!
U.S. Department of State
Bureau of Educational and Cultural Affairs