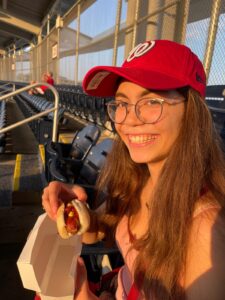 We are pleased to announce Sahra Aytar as the October 2022 CBYX German Participant of the Month! Sahra, a Congress-Bundestag Youth Exchange (CBYX) high school participant placed by AFS, is hosted by the Janssen family in Washington, D.C.
In only her first month in the United States, Sahra is already making the most of her exchange year and finding ways of giving back to her host community. She volunteered to set up and clean for a local music festival and is helping a teacher at a local middle school with their theater club. She is also impressed by how passionate her classmates are about their interests and wants to take advantage of the different sports and clubs her school has to offer. One month in, she is engaging in field hockey, ultimate frisbee, cheerleading, basketball, and track; she also joined the drama and school newspaper clubs at her school. As a member of the school newspaper, she plans on writing an article introducing herself, sharing her first impressions of the United States, and explaining about CBYX and hopes this may inspire one of her American classmates to apply for the program in the future.
Sahra is finding plenty of other ways to introduce herself and her culture to Americans. Whenever she has the opportunity, she tries to break the stereotypical image of Germany (she said a lot of people have asked her about Oktoberfest, beer, and pretzels) and "actually tell people what life is like for a teenager in Germany, so they can get to know the country and its people better." She talks to Americans about German holidays, such as carnival in Cologne, Sankt Martin, Nikolaus, and shares her Turkish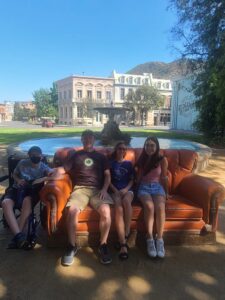 culture as well. Her friends and host family are excited to learn about both Sahra and Germany. Furthermore, she notes "food is very important no matter what country you're in," she joined her host family's tradition of choosing a day of the week to cook for the rest of the family and has enjoyed treating her host family to some of her favorite traditional German and Turkish recipes such as roasted salmon with potatoes and lentil soup with sourdough bread.
Sahra's experiences are exciting so far – for example, while on a trip to Los Angeles, CA with her host family, she saw the sunset over the Pacific Ocean and visited Warner Bros. Studio. However, she notes that her favorite moment from her exchange year thus far occurred in her host family home. She was stressed about completing a homework assignment when her host mom intervened with a hug, and told her, "You got this." That small moment helped solidify the feeling that she is truly becoming part of her new American family.
Congratulations, Sahra!