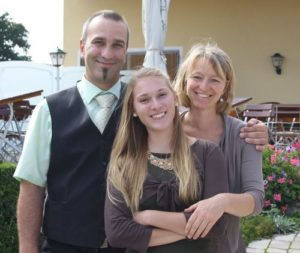 C-J senior spends year in Germany
She's one of 250 in U.S. to earn Congress-Bundestag scholarship.
By Virginia Burroughs
Chaminade-Julienne senior Grace Klosterman has been in Germany since Sept. 4, living with a Bavarian family and attending school for the year. She's one of just 250 students nationwide to receive the prestigious Congress-Bundestag Youth Exchange Scholarship through the U.S. Congress and German government.
The daughter of Brookville residents Rita and Patrick Klosterman, Grace studied German but "I don't speak it fluently, and it's really amazed me how I've been able to fare speaking only German."
When she visited Germany on the Dayton-Augsburg sister-city exchange last year, "I was too afraid of messing up the language to speak it."
The most notable differences she finds are in school and family life. "There are children and teenagers in my school, called a 'gymnasium,' and the purpose is to prepare for a test that enables a person to move into university education.
"The school day never really begins or ends. Some students go to school from 8 a.m.-5 p.m." And, her schedule varies daily.
Grace is the youngest of three children in her American family, with two older brothers. "Now, the roles are reversed – I have only sisters and I am the oldest. Being an older sibling is very hard, but I really feel a connection with my host family."
Jacob Browning, Grace's German teacher at CJ, said, "This program takes a special personality, which Grace has, and taking their senior year off would be a big sacrifice for most kids.
"Grace worked hard over the summer to get requirements she couldn't get there, like U.S. Government and English, so that she can graduate with her CJ class," he said.
Grace observes that "It hasn't been easy learning to adapt to what I would call an entirely new life, but the encouragement I get from my home in Ohio and the kindness I receive from those around me in Germany has made my exchange so far run considerably smooth."
To learn more about the CBYX program and find out how to apply, visit www.usagermanyscholarship.org.
Picture includes Grace Klosterman with her host parents in Germany, Regina and Johannes, at a German wedding.
The original version of this article was posted on DaytonDailyNews.com on October 8, 2014.