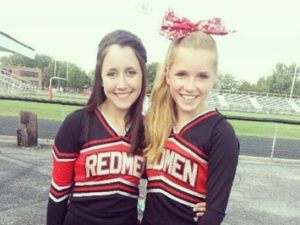 Frigga, hosted in Ohio
The CBYX program is proud to present the U.S. Department of State's German CBYX student of the month! Learn more about our winner below!
German CBYX Student of the Month: Frigga Franke
Frigga is a German YFU student who is currently participating in the Congress-Bundestag Youth Exchange Program. She is being hosted in Fostoria, Ohio where she attends Fostoria High School.
Frigga is incredibly excited about her participation in the Congress-Bundestag Youth Exchange. From the moment that she arrived in the United States, Frigga embraced her school and her community by participating in school activities and events.  She immediately became involved with her school's cheerleading squad, and although cheerleading was a completely new experience for Frigga, she worked hard to fit in and has become a valuable member of her squad. Those who know her describe her as a kind and charismatic person who brightens the day of everyone that she meets.
Frigga showed great initiative by contacting her host community's Congressional Representative, Congressman Jim Jordan, and inviting him to speak at her school.  The Congressman accepted Frigga's invitation and met with her personally at her school before hosting a question and answer session with the senior class. During her meeting with Congressman Jordan, Frigga shared information about the Congress-Bundestag Youth Exchange and stressed the important role the Program plays in maintaining the German-American friendship.
Frigga has embraced her role as a youth ambassador for the Congress-Bundestag Youth Exchange, seeking opportunities whenever possible to share information about the Program with the community of Fostoria. In honor of International Education Week, Frigga gave several presentations throughout her school about German culture, her life in Germany, and her participation in the Congress Bundestag Youth Exchange. She also gave a presentation at her host father's place of employment, a local fire department.
Frigga is the perfect example of a successful exchange student and she is a wonderful ambassador for Germany and the Congress-Bundestag Youth Exchange Program.
Congratulations Frigga!