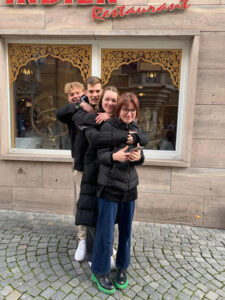 We are pleased to announce Arthur Wellenstein as the December 2022 CBYX U.S. Participant of the Month! Arthur, a Congress-Bundestag Youth Exchange (CBYX) Vocational program participant recruited by Nacel Open Door, is hosted by the Puke family in Grenzach-Wyhlen, Baden Wuerttemberg.
Arthur felt right at home with his host family from the start and is enjoying building friendships with his host parents and two host sisters through shared interests. His host mom appreciates having him in their home as well and explains that he "is fully integrated, makes his contribution to the household and family as a matter of course, and is the kind of brother one could only wish for our daughters."
Arthur's host family discussed his interests and out of those conversations, his host mother helped him find local outdoor recreation groups that he enjoys participating in. Also, thanks to his host mom, Arthur was able to continue with his high school cross-country interests through a half marathon (the Südwestzipfel Run). With a time of 1 hour, 15 minutes, and 16 seconds Arthur won his competition! Thanks to the competition, he discovered a local running group that gives him an outlet for his passion for running during his exchange year.
Arthur notes that his experiences in Germany make it clear that "you can always find people who like what you like." Since he lives on the border of Germany with Switzerland, he finds it interesting learning about both cultures by just striking up conversations. He asks a lot of questions when meeting new people and adds that "even if you're not super good at speaking German, you can ask questions." Arthur says that his time in Germany is giving him "a better understanding of how similar we all are, but how important the differences between us remain. The differences are what foster community and create strong bonds. My exchange thus far has given me a further appreciation of these differences as they give me new ways to look at life."
Upon application for the CBYX program, Arthur knew that he would be a citizen ambassador of the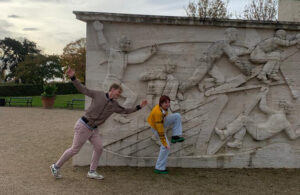 United States while on program in Germany. Yet, he didn't fully understand what that meant and how he would also represent German culture to his friends, family, and colleagues in the United States. He shares that his American friends have inaccurate ideas about Germany, and he tries to share his experiences to help create better understanding. One fun example is that his brother in Wisconsin asked whether Arthur had tried a giant German pretzel yet. When Arthur asked his host sister where to find one, she explained that they aren't available in Germany (though you can get them at a German beer garden near Arthur's home in Wisconsin). He also enjoys changing German ideas about Americans as the preconceptions often come from media rather than person-to-person interactions. Arthur believes that the CBYX program "allows him to get truly engrained in a foreign community that a simple vacation can't achieve."
Congratulations, Arthur!