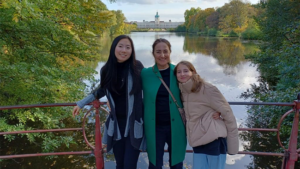 The German Bundestag and U.S. Department of State are pleased to announce Anna Huang as the November Congress-Bundestag Youth Exchange (CBYX) U.S. Participant of the Month! Anna, a CBYX high school program participant from Knoxville, TN and recruited by YFU USA, is hosted by the Restorff family in Hamburg.
Anna's host family surprised her by decorating her room to make her feel welcome upon arrival from language camp. This helped to settle Anna's nerves as she transitioned into a new family and host community. Anna remembers, "I was on the brink of tears because I wasn't expecting this." Since then, she is bonding well with her host mother, watching television with her elder host sister, and playing board games with her younger host sister. She also has two host brothers, one on an exchange year in Canada and one studying in Freiburg. Anna comes from a smaller family in the United States and is enjoying getting used to the rhythms of a larger family. She is particularly appreciative of her host parents, whom she describes as "very open and easy to talk to," and very helpful in providing advice on how to navigate the cultural differences between the United States and Germany.
Anna is also thankful for the support network provided to her as a CBYX participant. She particularly appreciates the support of her placement organization representative, who checks in with her on a regular basis. Anna is enjoying getting to know the placement representative and her family through visits to their home and their shared musical interests. Anna's placement representative is becoming an important part of her support structure, providing her with another trusted adult she can turn to for advice and insight as she continues to become familiar with local culture and build relationships in her host community.
As she builds her network in Germany, Anna reflects that food is an important part of being a citizen diplomat. She enjoys exploring German food and is particularly surprised by how many different types of toast there are in her host country, which is a staple of the evening meal. While Anna also enjoys doner and sausages, she remains skeptical of the ketchup that always seems to come with her currywurst. She is pleasantly surprised by the lunches at her German high school, which feature fresh, healthy options, such as baked salmon and beautiful salad bars.
Anna, who is Chinese-American and missing her mother's cooking, decided to test out her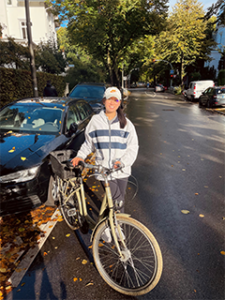 skills in the kitchen when her host mom brought home rice noodles one day. While neither Anna nor her host mom knew how to prepare the noodles, the internet came to the rescue with a tasty noodle salad recipe which turned out quite well. Way to embrace a dicey situation, Anna! Emboldened by that success, she prepared one of her childhood favorite recipes, Chinese zucchini pancakes. Her host family loved them, and she plans to make them again during her exchange.
As an exchange student, Anna is trying to say yes to as many new opportunities as possible. She is starting ballroom dancing lessons, trying out fencing with a friend from her school, and is playing her flute in the school's orchestra. She also joined a soccer club, Football Club St. Pauli, which is a large organization with both a professional team and several amateur teams. The club is known worldwide for its promotion of social responsibility, which cemented Anna's interest in playing with the team. From ballroom to soccer, Anna's exchange year is shaping up to be a ball!
Even with the many wonderful memories made so far, her favorite moment happened during a trip to Berlin with her host family. They walked around the Charlottenburg Palace, and Anna was amazed by the beauty around her. In that moment, she realized, "I might be the only one of my family and friends to ever see this. I am so glad I took this chance so I can see parts of the world that I didn't even know existed." During her time in Germany, Anna is tapping into a self-assured and confident side of herself which she expects to carry with her into her senior year when she returns to Tennessee.
Congratulations, Anna!