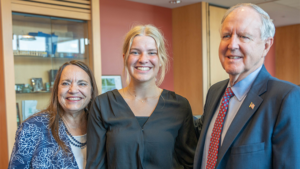 We are pleased to announce Mara Treder as the November 2022 CBYX German Participant of the Month! Mara, a Congress-Bundestag Youth Exchange (CBYX) high school participant placed by ASSE, is hosted by the Sparks family in Centerville, Ohio.
Mara is diving into her U.S. experience head first during these first few months. Reaching out to the German teachers at her school, she has already presented 11 times to her classmates – talking about the differences she is noticing between the U.S. and Germany and answering questions about her exchange experience. Her diverse interests and her desire to meet as many people as possible led her to join the Key Club, German Club, Environmental Club, Coding Club, Powder Puff Club, and swimming team! Through these activities, she is becoming an active member of both her school and local community. For example, Mara discussed recycling at her school with the Environmental Club and volunteered to paint small pumpkins for children in a nearby hospital with the Key Club.
Of course, Mara gets to share her country's traditions in the German Club, and she organized an October Fest where club members listened to German music, played German games, ate pretzels, and learned about German traditions. She enjoys being an ambassador of Germany. Her host family explained that, for most people in her high school, she is the first foreigner they may have met. She said that she felt proud that she "can be the first thing they experience of a different culture."
Given her interests in politics, Mara hopes to meet with local politicians while in the U.S. With the help of her host mom, she recently had the opportunity to shadow Montgomery County Commissioner Carolyn Rice for a day to experience first-hand the important work of a county commissioner. The last stop of the day was an animal shelter where they spoke with workers about the challenges they have and possible solutions to those challenges. For Mara, who is concerned about the environment and how people in leadership positions make decisions, it was a perfect day. Mara says she views Commissioner Rice as a role model because "she is a very good leader who is open to new ideas" and "she believes that it's important to understand other points of view."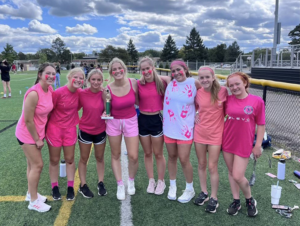 Though Mara hadn't heard of Centerville before being placed there, she says she is thrilled to be living in such a wonderful place. She feels that living in a smaller city lets her establish close relationships with members of her community. She is especially close with her host mom and shares that they "can talk about almost anything." From the moment she arrived at the Spark family's home, she felt that "this family is [her] family, and this house is [her] house." Mara is also having a positive impact on her host family. Her host mother proudly explained that "Mara is so inspiring to the whole family! It is impressive to see a young lady from across the world come to the USA and have such a wonderful attitude and be so involved in our local community."
Congratulations, Mara!