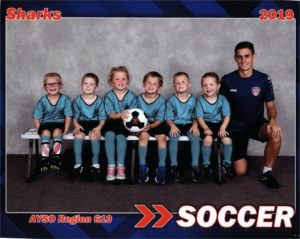 We are happy to announce Jakob Backes, a Congress-Bundestag Youth Exchange (CBYX) high school participant, as the December 2019 CBYX German Participant of the Month. Jakob is placed by YFU and hosted by the Shay family in Brooklyn, MI where he attends Napoleon High School.
Within just three months of arriving in the United States, Jakob already feels at home in his host family, school, and community. Jakob has built a strong relationship with his host family, particularly his five-year-old host brother, Ethan. The two love building Legos together and frequently discuss how great it would be if Ethan applied for the CBYX scholarship when he is older to spend a year at Jakob's house in Germany. While Jakob participated in the Civic Education Workshop in Washington D.C. in November, Ethan asked his mom constantly when Jakob would be home.
At school, Jakob makes the most of every opportunity to get involved. A lifelong soccer player, Jakob stepped outside his comfort zone and joined the football team. Although he had never played American football before, Jakob's hard work and determination earned him a starting position as a wide receiver. He had earned the respect of his coaches and teammates
both on and off the field. He earned the Senior Award at the team banquet where he gave an inspiring speech focused on "being a better family." Jakob's coach noted, "His unmatched character and commitment to his teammates made him an easy choice for a top senior award."
It is not all sport for Jakob. At his school's homecoming assembly, Jakob helped lead his class to a Lip Sync battle victory with his dancing and enthusiasm. An excellent student, Jakob has a great relationship with his teachers and can often be found deepening his understanding of U.S. history and culture through conversation with his U.S. History teacher, Mr. Booher.
Jakob is also volunteering in his host community. Certified to coach youth soccer in Germany, Jakob is using these skills to coach his host little brother's soccer team, where the kids, according to his host mom, all "LOVE Coach Jakob." He has also participated in a fundraiser event to raise money for Shriners Children's Hospitals, worked on a home for Habitat for Humanity, and helped at a Tamil community cultural event where he enjoyed meeting the people and learning about their culture and celebrating the Diwali Holiday.
Jakob's character and commitment to being a cultural ambassador make him December's Participant of the Month.
Congratulations, Jakob!

Department of State
Bureau of Educational and Cultural Affairs