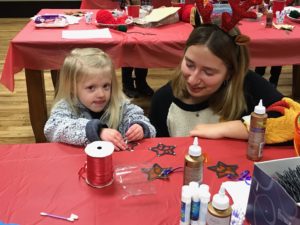 We are happy to announce the January 2020 CBYX Participant of the Month, Paulina Hess! Paulina is placed by Cultural Vistas and hosted by the Paniccia family in Endicott, NY, where she attend SUNY Broome Community College.
Paulina is dedicated to cultural exchange as evidenced by her community service and unique, life-changing experience. She has been volunteering at the SUNY Broome Child Care Center, where she has been incorporating German language lessons into her time with the children. Paulina, who has trained as a tailor in Germany, read a German fairytale about a tailor to the children. She has also taught them how to do some sewing. Paulina has enjoyed using her profession to help teach the children about craftsmanship and creativity.
As a member of the International Student Organizatoin (ISO) at her school, Paulina helped cook, prepare, and serve international meals to the campus community. She also volunteers for a local organization, Little Italy Endicott, which has taught her important aspects of supporting one's community. Its mission is to continue the revitalization of a 100-block neighborhood of Endicott into a vibrant economic and cultural district that celebrates its Italian heritage and Endicott Heritage Museum where she not only made crafts with kids and passed out hot chocolate and Christmas cookies, but was also able to discuss her German heritage and traditions with local residents.
The weekend before Thanksgiving, Paulina and a friend took a trip to Philadelphia, where they attended an NFL game. There they met with two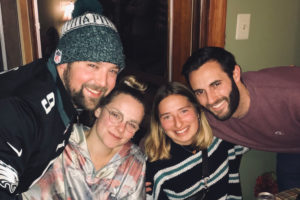 locals who introduced them to the Eagles community. During the game the group talked about German and American sports and cultural prejudices. One of the locals told Paulina and her friend about his annual Thanksgiving tradition in which he invites his whole family over. Their new friend mentioned that the gathering was taking place after the game and invited them to attend. When they arrive, they were welcomed by 50 of his family members. Paulina stated, "Being welcomed so warmly by strangers proves to me that cultural exchange opens up doors for communication…This family has invited us to their annual Thanksgiving dinner, although they hardly knew us and still treated us like family."
Paulina got to experience the importance of the traditional Thanksgiving dinner and family gathering. After dinner, they watched football on TV and Paulina spent the whole evening answering questions that the family had about German traditions and culture. Paulina had a wonderful experience and says she is now an Eagles fan for life.
Congratulations, Paulina!
Department of State
Bureau of Educational and Cultural Affairs