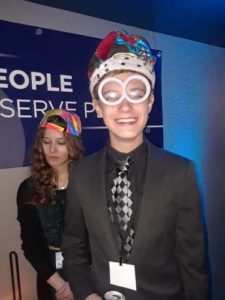 We are pleased Alexander Locher, a FLAG placed Congress-Bundestag Youth Exchange (CBYX) participant from Germany and hosted in New Mexico, as the April 2018 CBYX Participant of the Month.
Alex demonstrates his strong desire to contribute to his local community through service work. He completed over 40 hours of community service so far by volunteering with the ministry at his local church. He also participated as a "buddy" during the Tim Tebow Night to Shine Prom event for individuals with special needs. Alex is adamant about service in his community because he has a passion for helping others, and he wants to benefit and familiarize himself with his community as much as he can during his stay in New Mexico.
Alex is known to be an incredibly positive figure in his community. His desire to help others and contribute to his host town makes him a successful global ambassador. Aside from volunteering, Alex spends as much time as possible with his host family. He has a great relationship with his host parents and host brothers, and he loves playing with his siblings and helping out around the house during his free time. Alex's host dad lauds his patience and consideration for the family's autistic son. He is also extremely excited to be part of a growing family – his host mother gave birth to a third host brother recently (Congratulations!). He makes sure to share his German culture with his host family as well — he and his host mother prepared his own mother's recipe for schnitzel together.
Alex is an active and enthusiastic addition to his community through his devotion to his community, family and role as a global ambassador.
Congratulations, Alexander!
U.S. Department of State
Bureau of Educational and Cultural Affairs