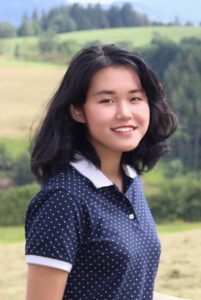 CBYX 2015-16 participant Bonnie J. writes about her experience celebrating the holidays and finding new perspectives in Freiburg, Germany, while sharing the United States' sense of diversity.
I've always worked on Christmas Day. My family restaurant required the workforce of my entire family to set business into motion, which required the loss of about twenty well deserved school vacations from twenty high school cousins, all of whom where dragged in by their parents to serve our customers. The usual customer suspects were Bostonians who enjoyed eating Chinese food more than shoveling slush outside on a snowy day.
But this year was different: I woke up in the Black Forest on Christmas day. My host family always celebrates Christmas in the region; the parents of my host father began the tradition during their honeymoon. That was fifty years ago, and the incredibly hospitable owners of the farm where we were staying still maintained the best relations with my host family.
Yesterday morning we decorated a Christmas tree as we watched historical photographs of the farm and area – still in that '80s slide format – projected onto a screen. Today we ate dinner together, sang Christmas carols, and opened presents around an open fire.
It was around the time that I began opening my presents – I received an Andy Warhol biography from my host father; we'd been to an art museum in Stuttgart and he saw my obsession with the 1960's – it was then that I realized that my "other" American self was still back home: that the same day, six hours earlier than German time, had just started to begin, and my other American self would have been packing take-out and probably would have spilled hot and sour soup on the floor. My mother would have told me to mop it up, and I would have finished the task before the end of her talk, knowing the satisfaction of eating a feast after a day's worth of hard work would come later.
I opened the next present – German chocolates from my host sister – and I thought: "What am I doing here in Germany?"
I turned to my host mother: "I've never received so many presents for Christmas in my life," I exclaimed, four presents scattered on my lap, "Is this normal?"
I thought back to when I arrived in Germany in September, when I was asking "Is it normal?" to my host mom, about all aspects of unfamiliar German life.
"Is it normal," I had asked her while riding the Bahn, "For most people to not go to church every Sunday?"
"Is it normal," I had asked around our dinner table, "For people to just accept having universal healthcare and an open university system?"
What an alien Christmas I was having: I hadn't decorated Christmas trees since Kindergarten, I'd only get hand-me-downs, as far as Christmas presents went, and my family didn't take any pictures in the 80's; they were too busy setting up the restaurant and dealing with a newfound urban life as immigrants in the United States, from a country that wasn't even recognized by the United Nations anymore. And family caroling? – you'd get a laugh and a "no thank you" from anyone I know my age back home.
I thought back to my American self – that "other" self, drowning unhappily in school activities, living a life without knowing German language or food or mindset, without the empathetic exchange students or school friends whom I'd met in Germany, without open political debates at the dinner table and döner for lunch every other week, without time to explain how weird Americans were and why we did this or that; a year without my host mother's cooking nor my host father's jokes, without weekend movies with my German brother.
It's funny how different I would be without having applied for the program. How a random Google search one summer afternoon out of boredom and a need to get out of my old house was all it took to change the course of a year – and myself for a lifetime – forever.
The way CBYX has impacted me is something which I can only fail to describe: it's shown me a lifestyle which I'd never otherwise have the chance to know, people who'd never otherwise befriend me, a stronger passion for language and cultural understanding in both international politics and day to day life, and a taste of a mindset and faux pas which I'll always carry on as a part of my personality and being. It's not to say there weren't – and aren't – any downsides at all: I'm missing things such as my junior prom, classes, after school clubs I would've otherwise had a leadership role in – and come Christmas, homesickness hit me like a soccer ball (or "football," to be precise) crashing through a school window.
But to not have seen and breathed the fresh air in the Black Forest? To not have learned how to milk cows, how to write citations in German essays, how to ice skate and eat snow, how to develop my own sense of independence, how to know whether the windows or doors are push or pull, to not have met with everyone I did in DC, to not have know how to live on my own (with no direction home)? I can't fathom it.
CBYX has given me the chance to try out a lifestyle so completely different from my original set path – my path of continuing to live on working and home-working, living in a constant state of anxiety, worrying about my family and what would happen the day after next, and never giving myself the time of day to sit down and stop, and think for myself. And for the wonderful experiences I've had and will have, for the amazing people I've met and will meet, and for the language of such historical and future value which I now love to use – I thank everyone at AFS and everyone behind the CBYX program for giving me, and so many others such a once in a lifetime opportunity.
Next year I'll be working at the family restaurant again. And then – I'll be thinking back to that warm dinner of bread and butter, fresh wurst and Swiss cheese topped off with hot chocolate we had by the fire, a week spent soaking in the nature of the Black Forest, and the wonderful presents which surprised me so much I cried. My time here in Germany will then only be an ephemeral memory of times past, but will still last as an experience from which I'll draw back on in everything I do.